Leave
time
for what matters
Slango is the thermomix of administrative tasks. A Digital Assistant that allows you to easily automate repetitive tasks within your organization. Slango copies, saves and clicks like a human. 
The power of Slango in numbers
At your disposal from Roboteka.
For things that really matters.
Making your business profitable.
Many already trust Slango
Pre-designed automations to optimize our daily efficiency.
Generate documents in one click
Create numerous repetitive documents with the help of our robots adding only two files: 
The template

 of the document you have to fill.

An excel file

 with all the data you want to incorporate on every document generated. 
Combined with our data-extracting robots, you can generate repetitive documents in just a few seconds.
"Filling out a lawsuit manually is tedious, I hated having to look for data in a hundred different places a day, copying and pasting in different documents and spending at least 2 hours per lawsuit. 
Now I simply press a couple buttons and it is done within seconds. This is priceless."
Create official documents in one click
Intrastat is the system through which statistics about goods traffic are collected between the European Union countries, so it can be presented to the tax office.
Fill all the documents and forms needed for Intrastat with just one excel document automatically, in just a few seconds.
"This process used to take me between 2 and 3 hours to do manually, now it takes me less than 3 seconds."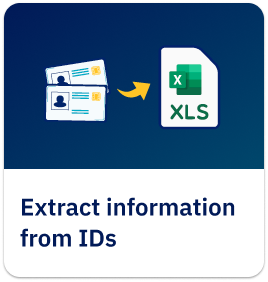 Extract information from IDs
Insert one or multiple pictures of IDs and all the information within will be extracted and pasted on an Excel document automatically.
"Is extremely useful for my CRM management to be able to extract the data that I need from just a pic, especially because I am sure the information is correct and I don't need to worry about making mistakes and checking afterwards."
Store and extract from your receipts
Take a picture of your receipt and…forget about it! With just a picture, you can extract all the info and save it in an Excel document. Then, the picture is saved in a cloud-based storage. Makes this tedious task effortless, and your accountant's life so much easier.
"Having to show proof of expenses in a company trip is awful and has nothing to do with my job. Keeping receipts in good condition gets tiring really quickly for me and my team. Now, I don't have to worry about that and my accountant knows what expenses I'm having."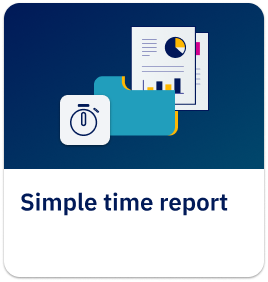 Record and monitor your work time
Track your team's work hours with just one click.
Assign schedules and different tasks or projects to employees to do in their work hours.
"In my office, the manager had to keep an excel document with all the hours worked by every employee, and had to spend several hours a week just assigning hours and keeping track of schedules, because we didn't have the funds to buy a clocking machine.
Now, she can do it in just a few minutes and we no longer need to worry about it."
Follow auction sales prices in real time
Auctions sales on the internet can be impossible to follow due to the amount of markets and products found. Let this robot track the auctions down and notify you once an item from your shopping list is for sale.
"This robot sends a notification whenever a specific product of my shopping list is going to be sold so I don't miss any opportunities."
Automate email management
Manage with the Slang platform all the emails and attachments you receive every day. Download, sort out and categorize all the attachments in a matter of seconds.
"Working as a lawyer, I need to download the same kind of files from the same senders everyday and merge them in just one file. It's an easy task but really time consuming and frustrating. I needed to focus in more complex task that a computer couldn't do."
Try now for free and
start automating
Try the web version of Slango for free and start automating right now. Check the full potential of Slango downloading the desktop app. 
It's quick to install, easy-to-use and suitable for non-tech users.
A library of pre-designed robots for the most repetitive tasks
Find a solution to your problem at Roboteka.
A tasks recorder to automate custom tasks
Do you have to repeat the same task over and over daily? Record the process and play it any time you need to carry out that task.
It's like magic!
Download Slango and start automating your boring processes

Automating with Slango is really simple. Choose between web or desktop version and just click on one of these buttons.